Old Laughter and Synonyms for Actors
31x44cm, digital photo print
Outsized, Hidden Agenda: stealth mode
Installation view
7x9m (gouache on canvas, wood, spotlight, tripod)
Outsized, Hidden Agenda: stealth mode
Installation view
7x9m (gouache on canvas, wood, spotlight, tripod)
Outsized, Hidden Agenda: stealth mode
Installation view
7x9m (gouache on canvas, wood, spotlight, tripod)
Outsized, Hidden Agenda: stealth mode
Installation view
7x9m (gouache on canvas, wood, spotlight, tripod)
Outsized, Hidden Agenda: stealth mode
Installation view
7x9m (gouache on canvas, wood, spotlight, tripod)
Outsized, Hidden Agenda: stealth mode
Installation view
7x9m (gouache on canvas, wood, spotlight, tripod)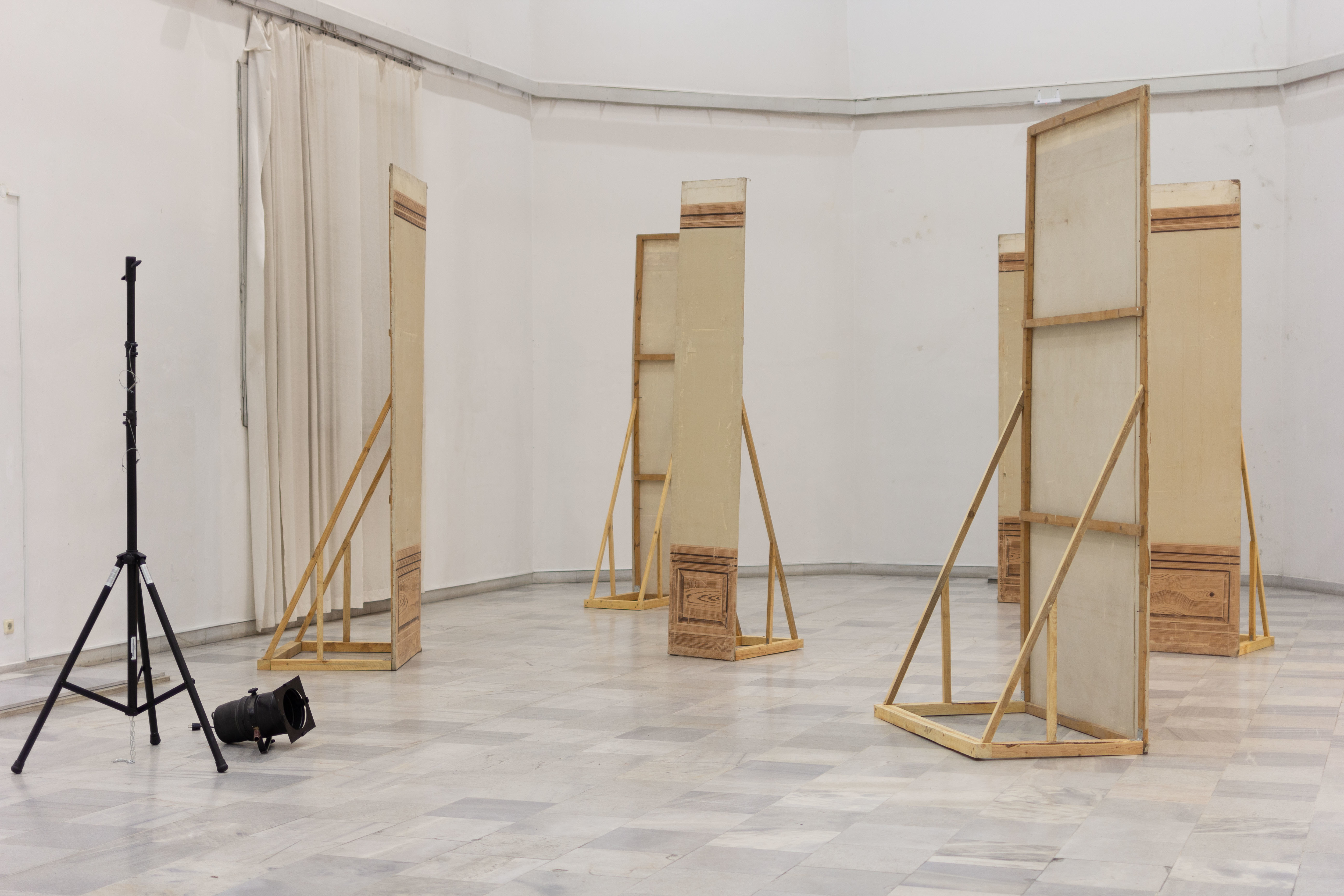 Outsized, Hidden Agenda: stealth mode
Installation view
7x9m (gouache on canvas, wood, spotlight, tripod)
Outsized, Hidden Agenda: stealth mode
Installation view
7x9m (gouache on canvas, wood, spotlight, tripod)
Outsized, Hidden Agenda: stealth mode
Installation view
7x9m (gouache on canvas, wood, spotlight, tripod)
Outsized, Hidden Agenda: stealth mode
Installation view
7x9m (gouache on canvas, wood, spotlight, tripod)
Hands on Puppet
Photo series, installation view
Hands on Puppet, 1
130x193cm, digital photo print
Hands on Puppet, 2
130x193cm, digital photo print
Hands on Puppet, 3
130x193cm, digital photo print
Hands on Puppet, 4
130x193cm, digital photo print
Hands on Puppet, 5
130x193cm, digital photo print
Video
King of Hearts
Installation view. (Loop 12:35min. / actor/Ivan Ivanov, voiceover/Raymond Steers, written and directed by Lars Nordby)
King of Hearts
Video (loop 12:35min.)
BACK TO TOP
Old Laughter and Synonyms for Actors
19.11 - 07.12.2018Rafael Mihaylov Exhibition Halls
Veliko Turnovo, Bulgaria

"Each section of the show represents a different medium and approach to the theme. First: a video-work that probes the notion of the actor in his performing environment, but as not yet performing. Second: a series of photographs of actors in preparation for performance. Third: an installation-piece using theatre props as freestanding sculptural objects.
There is an emphasis on the preparatory elements that create theatre, the building blocks that support the performance. Yet, reconfigured within the gallery space, they become artworks in their own right, rather than pieces that support an overall performance. There is therefore a cyclical process, and a recycling that changes the nature of the objects on display. Theatre props imitating walls are presented as sculptural artworks that allow the viewer to register them as canvases with paintings."
- Hanna Gjelten Hattrem, Outtake from press release and the book Old Laughter and Synonyms for Actors /
Read more
"In Nordby's work we are situated in an environment where there is no apparent role being acted; on the contrary, we find ourselves in the midst of fragments of absent dramas – or to come, perhaps, as the play that is about to be put on – except for the reality of the venue."
- Kjetil Røed, The Prop as a Tool for Recognition /
Read more
_ _
Thanks to Nikolay Zarkov, Denica Milusheva, Hanna Gjelten Hattrem, Stanimir Boyadzhiev, Raymond Steers, Vesselin Vassilev Vessel Theater Veliko Tarnovo / Actor - Vesselin Vassilev / Scenography - Emeliyana Andonova-Toteva, Tim Brignall, Galin Popov, Erik Lerouge, Stefan Kinov (Nadezhda 1869 Theater), Mariana Ivanova (Vishovgrad Theater), Ivan Stamenov Ivanov, Boyan Dobrev (NC Iskra Theater), Plamena Slavcheva, Boyan Tonkov, Kristoffer Zeiner Christiansen, Plades and Kjetil Røed.