Restaging Parallax, 2022
Installation view of thirty electronic UV-lit insecticidal lamps splitting the exhibitions pace in half / dimensions variable
Restaging Parallax, 2022
Installation view of thirty electronic UV-lit insecticidal lamps splitting the exhibitions pace in half / dimensions variable
Restaging Parallax, 2022
Installation view of thirty electronic UV-lit insecticidal lamps splitting the exhibitions pace in half / dimensions variable
Restaging Parallax, 2022
Detailed view of thirty electronic UV-lit insecticidal lamps splitting the exhibitions pace in half / dimensions variable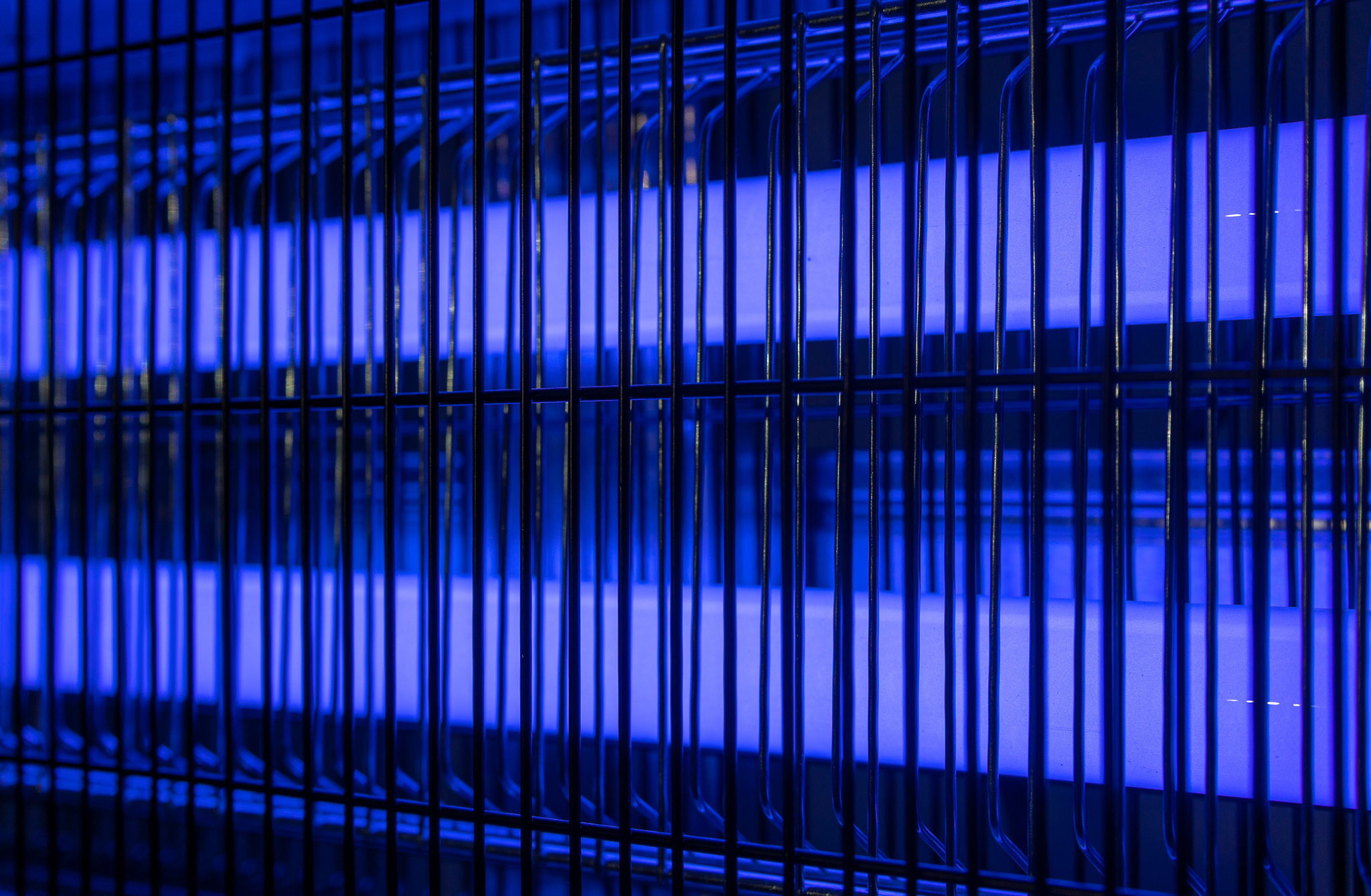 Restaging Parallax, 2022
Detailed view of thirty electronic UV-lit insecticidal lamps splitting the exhibitions pace in half / dimensions variable
Restaging Parallax, 2022
Detailed view of thirty electronic UV-lit insecticidal lamps splitting the exhibitions pace in half / dimensions variable
Restaging Parallax, 2022
Detailed view of thirty electronic UV-lit insecticidal lamps splitting the exhibitions pace in half / dimensions variable
Restaging Parallax, 2022
Installation view of thirty electronic UV-lit insecticidal lamps splitting the exhibitions pace in half / dimensions variable
Restaging Parallax, 2022
Installation view of thirty electronic UV-lit insecticidal lamps splitting the exhibitions pace in half / dimensions variable
Restaging Parallax
17.11 - 17.12.2022
ICA - Institute of Contemporary Art
Sofia, Bulgaria
- curated by Snejana Krasteva
Deceptively minimalistic, Restaging Parallax is, in a way, the first retrospective of the Norwegian artist Lars Nordby. The eponymous installation on view presents three performative works produced by the artist between 2016 and 2018. They are restaged at the ICA exhibition space through various elements such as fake walls, insecticidal UV lights and the medium of theatricality itself. Using the latter to explore complex mechanisms of ideological constructs, Nordby often transforms daily objects into theatrical props in order to create situations while activating in the viewer a certain "parallax gaze"– an ability to immerse ourselves in the mind's' blind spots. This ability can, in turn, serve as a powerful tool for the beholder to enact (political) resistance.
The concept of theatricality as a critical term opens up a range of useful reflections on subjects such as realism vs. illusion, authenticity, artifice, manipulation, agency and liberation, as well as on less evident concepts around identification and its constructs– a theme that Nordby consistently explores in his art practice. In The Abstract Frontline of Identity (2018), one of three works that are referenced in this exhibition, the artist uses rats and fruit flies' natural attraction towards certain smells and light while, placing glue traps and UV lamps to lure them into their death. While we stand in wait for them to make an appearance dreading the projected moment of their end, we are momentarily oblivious to the mechanisms at play. The choice of 'actors' is key here––animals have long been used in literature and art to expose human artifice. Yet the rats and flies' (premeditated) failure to attend the exhibition makes palpable instead a strong sense of staged expectations that awkwardly coincides, even for a brief moment, with part of what allegedly defines their very 'animal' authenticity: the magnetism inherent in their nature, a lure that eventually kills. A similar situation is enacted in an earlier work by Lars Nordby People behind the Gallery Wall (2016), whereby the artist built a fake wall in the exhibition space and, through merely the exhibition title, stated that there were people behind it. If historically animals were often deprived of agency in their authenticity, here, the human actors and their agency seem to be all there is. Whether we identify with any truth in the words (which we are ultimately denied access to) is where our agency lies, yet inevitably succumbing to the lure of aligning ourselves with the truth at a given moment is what drives us to the wall, to that thin frontline of identity the artist is exploring throughout his works. In the installation Overidentification (2016) Nordby repurposed OSB panels that were used to board up broken windows in the aftermath of the tragic terrorist attack in 2011 to board up the windows of the art institute Kunstnernes Hus in Oslo, weaving into the intimate identity-formative processes wider historical events and collective memory. From animal or human 'actors', the artist's attention turns to the objects' carriers of memories of defining grieves in order to explore the very possibility of a 'parallax gaze', of becoming aware of what eludes us when we are left with only one perspective.
Restaging Parallax at ICA-Sofia Gallery is thus a small retrospective of the tactics and strategies employed by Lars Nordby rather than a straightforward chronological staging of past works. A wall of 30 bug zappers, dangerously charged with their usual voltage, divides the gallery space in half, leaving the space behind the lamps visible yet inaccessible and dysfunctional. In this final act, humans, animals and objects are united in the ultra-violent 'promise' of artifice and machinations. As Nordby describes it and hopefully we can see it too - "it's a functional tendency of ideology today."
- Snejana Krasteva
_ _
'Restaging Parallax' is the sixth exhibition in the year-long program Superpositions 2 / Entanglement, 2022 of the Institute of Contemporary Art-Sofia. The program includes six exhibitions, each one a collaboration between an artist and a curator, along with a cycle of educational events and discussions. All these examine the entanglement of contemporary art with politics, science and technology, popular culture, gender and social movements, ecology and migration. The program is supported by the
National Fund "Culture" / The Annual Program for Support of Professional Organizations in the Field of Arts
and the
Singer-Zahariev Foundation
.
The exhibition is supported by OCA - Office of Contemporary Art in Norway, ICA - Institute of Contemporary Art.
Photo documentation by Theodora Dzherekarova.